What's On Tap at Radiant Beer Co.
We look forward to your visit! Our taplist is updated regularly, though offerings can change quickly and without notice. Please call us before visiting if you're looking for something specific: (714) 661-5790
We offer crowlers of some selections, but cannot crowler nitro beers, slushies, or soft serves. Check our SHOP page for beers available in cans to go.
🍦🍧  Learn more about our frozen beer slushies & soft serve beer.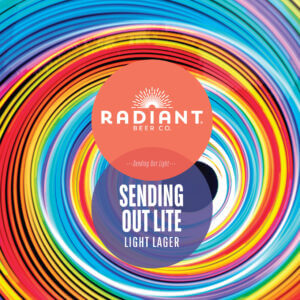 Sending Out Lite
Light Lager
As the solstice approaches, it's the perfect time for SENDING OUT LITE. Welcome back our light lager that's low in calories, high in refreshment, and clean in flavor. Lively carbonation with very subtle undertones of toasty malt and rice cracker, fragrant lemony hops, and sparkling minerality make Sending Out Lite our go to option for easy refreshment. Bright up your beer!
Can Down By The River
American Lager
A new American Lager? Well La-Di-Frickin'-Dah! Welcome back CAN DOWN BY THE RIVER, our beloved 4.6 % crispy boi. Brewed with a bit of rice and Saaz hops, this is meant to be ultra pale, very clean, lagered to perfection, and highly carbonated. Beyond enjoying its high crushability, you may be moved to appreciate its delicate notes of hay, grass, lime, and floral hops. Brewed for all the motiviational speakers out there.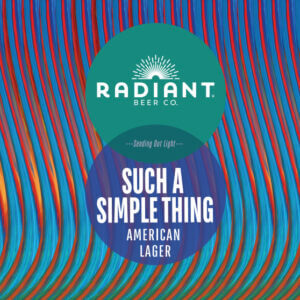 Such a Simple Thing
American Lager
Ahhh beer... it can be SUCH A SIMPLE THING. Imagine you've got an American Lager. Maybe circling that perfect 5% ABV territory. Maybe there's a crystal-clear, straw-hued body. You could probably aim for some mild floral aromas that usher in a light nose of freshly baked bread and hay. Maybe coax out a dry, clean, crisp body with some delicate malt presence that levels out with a firm bitterness. It's simply... beer. Enough said.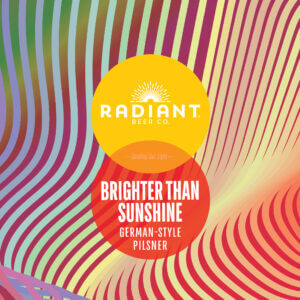 Brighter Than Sunshine
German-style Pilsner
This recurring German-style Pils is BRIGHTER THAN SUNSHINE. Meticulously brewed with all German ingredients, our detail-oriented friends will feel illuminated by this pilsner. Biscuity German malt aromatics, and the pleasant fragrance of German hops showcase notes of earl grey spice, lemon zest, and alpine flowers. This dry, highly carbonated refresher drinks crisp and crackery, with firmly refreshing bitterness and floral, spicy hop notes from Saphir, Tettnang, and Hallertau Mittlefruh noble hops.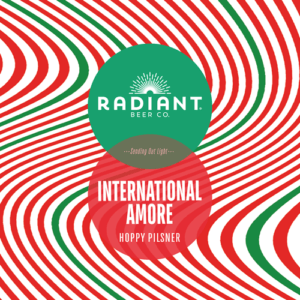 International Amore
Italian-style Pilsner
You could say we've got some INTERNATIONAL AMORE toward Italian-style pilsners. A crush on the crystal clear, highly carbonated, and ever-so drinkable crisp style. Our foray with amore delves into hop-forward aromatics of black tea, bergamot, thyme, and pils malt with a very dry, mildly herbal drinking experience that we've fallen in love with. Dive into this affair with a bellísimo beer!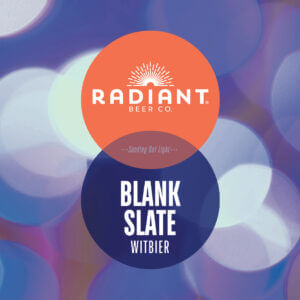 Blank Slate
Witbier
Let's start over with a BLANK SLATE. In fact, let's do a refresh every year for this take on a classic Witbier with a Radiant twist. Let's elevate that tried-and-true orange peel and coriander combo with a few simple ingredients that work in synergy for this smooth bodied, extremely food-friendly brew. For 2023, we decided to take inspiration from gin botanicals like juniper, adding bright citrus & delicate spice notes to the wheaty aromas of freshly-baked bread in an effervescent and refreshing 5% package. We hope you enjoy our newest take on an old favorite.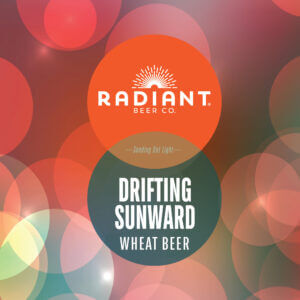 Drifting Sunward
California Wheat Beer
Onward, upward, find us DRIFTING SUNWARD. Toward the path less traveled, toward an artisan approach to a well-trodden road. This is a Wheat Beer, as though a Wheat Beer had not crossed here for some time. Hopped with frequent travelers Mosaic and Citra, prepare to embrace a journey of light toast and lemon zest. Go straight through the forks in the road to discover a citrusy wheat with a medium-but-crushable body. Skip the shortcut; enjoy the sunward ride.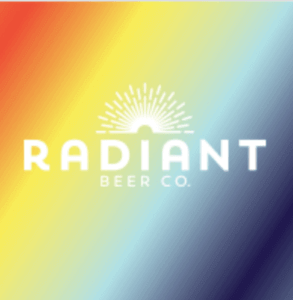 Put the Pineapple in the Coconut
Pina Colada-inspired Seltzer
You PUT THE PINEAPPLE IN THE COCONUT then condition them up! Maybe that's cutting it short, but like, that's basically what we did for this latest sunny seltzer. At 6.2%, with a truly tropical vibe, you'd be just as much at home sipping this on the beach as on our vibrant patio. Sweet acidity of the lush tepache flavors are contrasted nicely with the creamier coconut elements; it's a Piña Colada's zestier counterpart!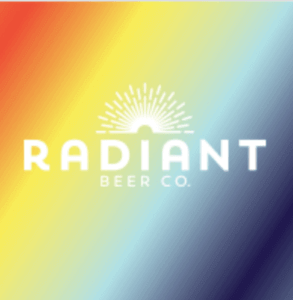 Here's the Kicker
Moscow Mule-inspired Seltzer
Raise a glass, comrade because HERE'S THE KICKER. We're taking a connoisseurial cruise to the motherland of mules for this Moscow Mule-Inspired Seltzer. A little sweet, a little zesty, a hint of lime and ginger, and a whole lotta cool, crisp flavor.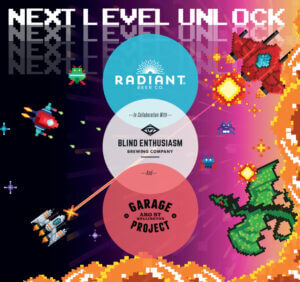 Next Level Unlock
West Coast Pils
Boot up, beer fans - it's time for the NEXT LEVEL UNLOCK. This co-op experience was brewed in collaboration with our offline friends Blind Enthusiasm (respawning from Edmonton) and Garage Project (logging on from Wellington) for an international team-up. A West Coast Pils with Canadian Malt, New Zealand water profile alongside Nelson and Riwaka hops, Motueka kief, and Oregon-grown Strata. Unlock beautiful aromas of melon, gooseberry, and lemongrass while powering up with notes of tropical fruit, light bready malt, and some light lime and tangerine.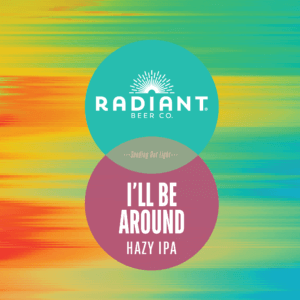 I'll Be Around
Hazy IPA
As an immensely popular style once told us... I'LL BE AROUND. This 6.7% Hazy IPA isn't planning to go anywhere, instead holding steady with a who's who of hops: Citra, Mosaic, Simcoe, Amarillo, and Cashmere round out the roster of a low-bitterness, heavy on tropical flavor hazy. Aromas of pineapple, kumquat, and white mango revolve around bold flavors of mango and guava, with an orbit of citrus bringing it all back to square one.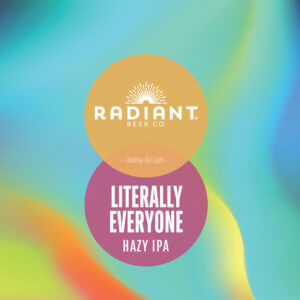 Literally Everyone
Hazy IPA
You know who's been asking for hazies lately? LITERALLY EVERYONE. So who are we to deny making another nuanced, juicy Hazy IPA for the loving masses? This go-around the carousel of haze features Mosaic, Riwaka, Citra, Cashmere, and Amarillo hops for a beautiful blend of stone fruit and tropical notes. Aromas of ripe peaches, mango, and strawberry are followed by a lovely palate of guava, pineapple, and white gummy bears, with low bitterness and a citrusy finish. We can't wait for Literally Everyone to try it.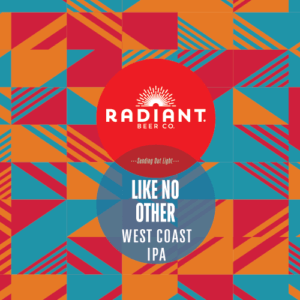 Like No Other
IPA
Yes it's another IPA. But to us, every IPA we make is special; unique; novel; LIKE NO OTHER. A medley of Simcoe, Amarillo, Citra, Mosaic, Cashmere, and Idaho 7 hops, this 7.2% brew is no exception. Pouring a clear, straw-yellow hue with tight, white foam, aromas of tangello and grapefruit pop off with slight hints of candied lime and mango. A true-to-form west coast bitterness underlies a grapefruit start and a subtle, dry strawberry and melon finish.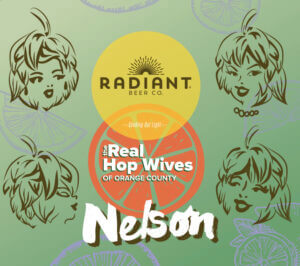 The Real Hop Wives of Orange County: Nelson
IPA
On the second episode of THE REAL HOP WIVES OF ORANGE COUNTY: NELSON, we explore the drama behind the diva from down under...Nelson. She's a lady with layers that's easy to love, but even easier to like. Influential, aromatic, and filled with as much passion as passionfruit. Some scenes might have tangelo and dank, and others may contain strong notes of gooseberry and mango. No matter what day you catch her on, you know she's bringing stripes of strawberry and guava to the party. But don't turn your back, or she might hit you with troves of mixed citrus. Until the next episode...
Viva La Blanche
White IPA
When the world of beer feels like it can get dark, we're here to say... VIVA LA BLANCHE! This is a refreshingly different 7.5% White IPA brewed with Wit Yeast and jam-packed with Citra, featuring some supporting Strata and Cashmere. A surprising blend of coriander and tangerine underlie a more dominant tropical foundation of pineapple and passionfruit. A thirst-quenching, Juicy-Fruit laden finish balances out a dry profile that calls for one sip after another.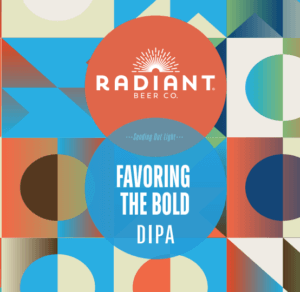 Favoring the Bold
DIPA
How do we keep the fresh beer ideas rolling? Simple. By FAVORING THE BOLD. Bold concepts lead to bold flavors. Take for example a 9.1% West Coast DIPA that starts with a classic hop trio of Mosaic, Simcoe, and Amarillo and then blends in the treasured, new-school experimental HBC586. You get a triumphant beer bursting with tropical fruit-forward notes like papaya and mango leading the way, followed by lychee, lime zest and white grapefruit. An audiaciously easy-drinking DIPA with a balanced bitterness never came from favoring the unadventurous - keep it bold.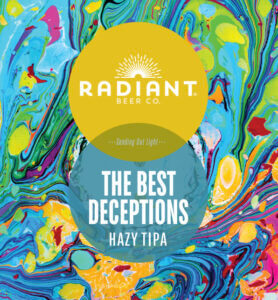 The Best Deceptions
Hazy TIPA
Big. Bold. Deceitfully drinkable. THE BEST DECEPTIONS are always pleasantly more than meets the eye. This is a 10.6% Hazy TIPA with a single job - defy expectations. A powerhouse pack of Citra, Strata, Mosaic, Simcoe, and Cashmere make up the bill for this hazy, creamy peach juice of a pour. Intensely tropical aromatics waft out individual scents of mango, gardenia, and tangerine sorbet. A warm, pleasant up-front alcohol touch lends nicely to a further island blend of primary mango and secondary P.O.G. flavor. Creamy, perfectly carbed, and dangerously delicious.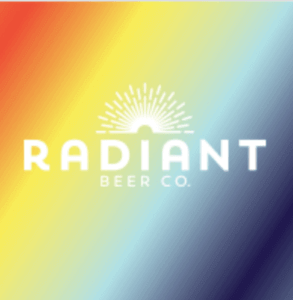 Radiant Rosé
Grenache Rosé
In collaboration with Groundwork // Paso Robles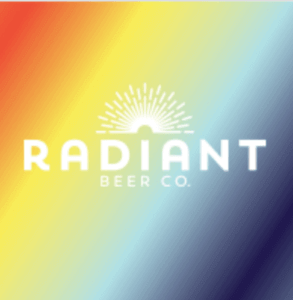 Radiant Red Blend
Chilled Red Blend
Chilled Red Blend
Collaboration with Sans Liege
Counoise Grenache Red Blend
SLO Coast